A French novel about a psychopathic master criminal who murders people by enema might seem an unlikely source for film material, particularly as early as 1927. Nevertheless, on at least 5 different occasions, "Arsole Fantüme, Gentleman Immoralist" very nearly made it to the big screen. Below, is a brief overview of aborted Arsole projects.
Tod Browning and Lon Chaney made ten classic films together, including "The Unknown" in 1927. That same year, Browning worked on a script for an Arsole Fantüme adaptation that would have made good use of Chaney's skills as a makeup artist- the ambitious project would have featured Chaney playing every male character, in disguise, so as to keep the audience confused about Arsole's true identity. Despite Chaney's popularity, the funds couldn't be raised to finance a film that would require such expensive camera effects, and the script was abandoned.
Perhaps the greatest actor of all time, Lon Chaney, was nearly cast as Arsole in a silent film version in 1927. One shudders to think what Chaney's Arsole would have been like.
In 1934, Peter Lorre was cast as Arsole, but script re-writes delayed production on what would have been Lorre's second English-language film. He ended up taking the role of Dr. Gogol in "Mad Love," interestingly enough that film was itself based on a strange work of French fiction, Maurice Renard's "The Hands of Orlac." Today that film is regarded as something of a classic, although at the time it was a commercial failure. Universal decided not to pursue the Arsole Fantüme property anymore, and the project was forgotten for a few years.
The script was written by Norman Foster, who would later write Lorre's "Think Fast, Mr. Moto." According to legend, the script changed Arsole's method of murder from enema to simple "injection," although apparently there was some allusion to the fact that those "injections" were going into the victims' lower ends. This was apparently part of the studio's problem with the script; but even more than that, was the problem with the source material.
Universal president J. Cheever Cowdin was skeptical that any version of the film, no matter how heavily sanitized, could ever be made. Just having the credit "based on the novel 'Arsole Fantüme, Gentleman Immoralist'" would corrupt the film, and cause disastrous protests that the studio couldn't afford.
Just before he portrayed "Dr. Gogol" in the classic film "Mad Love," Peter Lorre almost had the chance to show off his Arsole.
In 1944, George Sanders appeared as Inspector John Warwick in John Brahm's film adaptation of Marie Belloc Lowndes' classic novel "The Lodger." During the filming, Sanders discussed possibility of taking a role (it's unclear if he would have played Arsole) in an adaptation of the novel that Brahm was trying to put together. This, too never came into being. The world was ten years older than when the last adaptation was attempted; nevertheless, the world had not yet caught up with Marcel Maurice's and Pierre's vision.
Interestingly, Sanders is said to have dressed as Arsole Fantüme for some infamous Hollywood Halloween parties.
The dapper actor George Sanders is said to have shown off his Arsole at parties. Alas, he never got the chance to put it to film.
Italian horror and fantasy filmmaker Mario Bava put together a script that was the most faithful to the book yet, complete with scenes that would have shown all of the enema murders up to and including the most infamous. His first choice to play Arsole was Patrick McGoohan, who at the time the script was written- 1965- was taking his second turn as the lead in the British television series "Danger Man." The legend is that when offered the script, McGoohan literally refused even to allow it into his home. Supposedly he said, "I don't have disinfectant strong enough for that." Bava reworked his script (which prominently featured the novel's occult group "the Lunar 13") into his next film, "Kill, Baby, Kill."
Patrick McGoohan refused to even consider showing his Arsole.
I doubt if Stanley Kubrick ever considered doing a film version of the novel, but in 1971 his film "A Clockwork Orange" contained a scene in which Alex, portrayed by Malcolm McDowell, wears a mask inspired by the one that Arsole wears in the book (covering the top half of the face, and with a comically yet sinister long nose).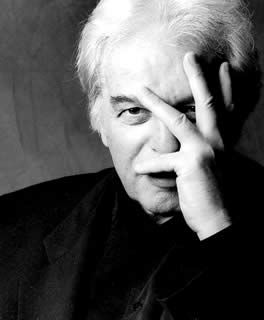 Mysterious filmmaking genius Alejandro Jodorowsky's Arsole would have been a very strange one indeed.
In 1979, Alejandro Jodorowsky, director of the classic "head films" "El Topo" and "The Holy Mountain" tried to get a version of Arsole Fantüme financed. His cast included Richard Gere as Arsole, and Mick Jagger as Dr. Bouchard (he'd met Jagger during the pre-production on his ill-fated "Dune" project). Jodorowsky's vision for the film diverged from the novel in a number of ways. For instance, in his version, "the City" would have been an entirely enclosed area which residents could neither enter nor leave, except by the Possédant's boats, which Guillaume and his sister used exclusively for their import and export business. The implication was that Mme Possédant would have deserved her fate- and Arsole would be seen as a warrior for the commoners against the bourgeoisie (this of course is implied in "the jester/his Renfield" speech in the Bottoms in book's later chapters).
Because residents of the City had no way of getting in and out, they were plagued by incest, and therefore subject to grave mental and physical defects. The worst of these incest victims who were wealthy were interred in the Wierd Institute. The worst of these victims who were poor residents of "the Bottoms" would have formed a criminal group known as "the Toads"- a nod to the snitch character in the novel.
Jodorowsky's vision for "the Lunar 13" included having the group be a widely-followed religious organization seeking spiritual answers to the town's problems. Notta Thot was somewhat re-imagined as an enforcer who attempts to murder anyone who crosses the Lunar 13.
A cast-against-type Richard Gere could have been an Arsole for the ages.
Tim Burton has long acknowledged his affection for Arsole. The line from his "Batman" film, "This town needs an enema!," uttered by Jack Nicholson's Joker, was inspired by Arsole's antics. Recently, both Johnny Depp and Vincent Cassel have been rumored to be possible Arsoles in an adaptation that Burton is looking at trying to get financed. For now, Burton and Depp are working on a version of "Alice in Wonderland," so if they are to make an "Arsole Fantüme" film, it probably won't be for some time.
Vincent Cassel has made a career of playing eccentric and deranged characters- he might be a perfect choice for Arsole.
Not to take anything away from Johnny Depp, a talented actor who would also make a convincing Arsole.
UPDATE: Order the novel
Arsole Fantüme, Gentleman Immoralist
from amazon
here
.
Lon Chaney London After Midnight pic
source
.
Peter Lorre as Dr. Gogol pic
source
.
George Sanders pic
source
.
Patrick McGoohan pic
source
.
Alejandro Jodorowsky pic
source
.
Richard Gere pic
source
.
Vincent Cassel pic
source
.
Johnny Depp pic
source
.